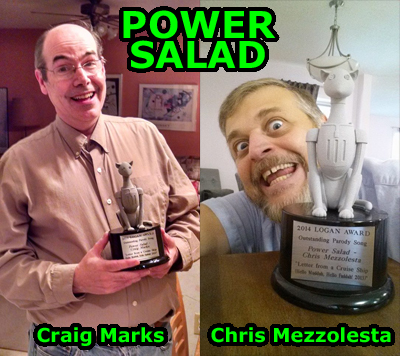 Yes, comedy music fans, the time has come once again for us to celebrate the best comedy songs and funny music videos of the previous calendar year! The 5th Annual Logan Whitehurst Memorial Awards For Excellence In Comedy Music (a.k.a. "The Logan Awards") will be held at FuMPFeST 2015 on June 6th.
If you'd like to nominate a song or video from 2014, you can do so here:
http://www.loganawards.com/nomination-form/
But before you do, you should check to see if the songs/videos you intend to nominate aren't already listed as already suggested here:
http://www.loganawards.com/nomination-list/
Note: By the time I woke up this morning, someone had already nominated every significant song I'd released in 2014, except for "Q*bert" and the video for Power Salad's "Corned Beef And Cabbage". So, to whoever nominated all my songs. Thank you! If any of you feel Q*bert or Cabbage are deserving of a Logan Award, feel free to nominate them.